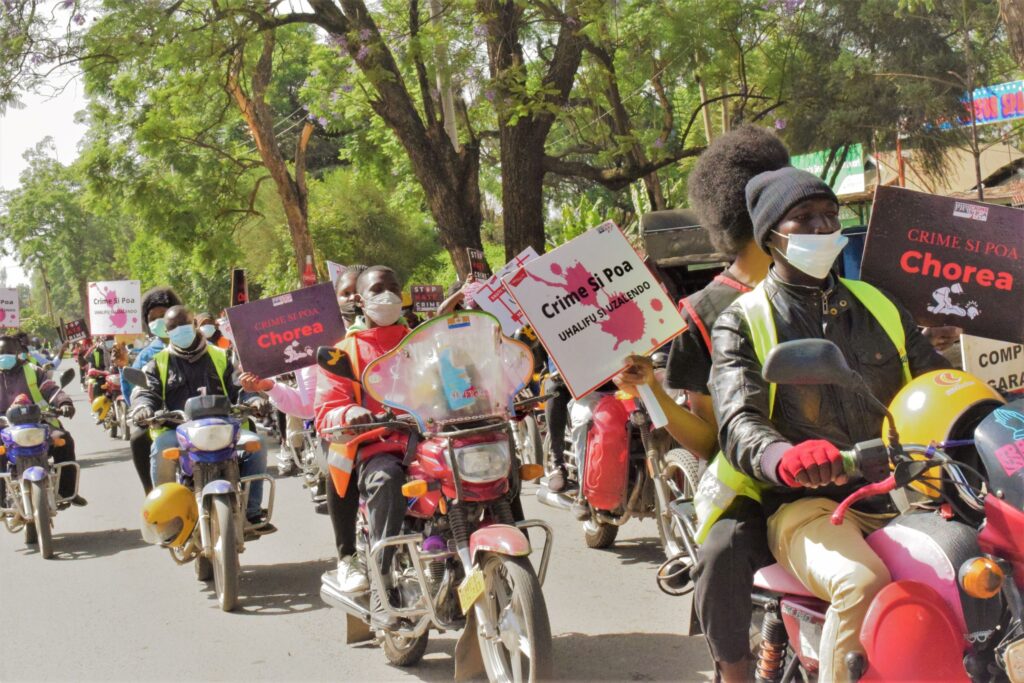 Boda Boda riders in Nakuru City have joined hands with the criminal justice system in the region, Crime Si Poa®, Article 19 East Africa, and fellow youth to call for peace ahead of the 2022 General Election.
The riders took to the streets to create awareness against crime calling on their fellow youth in the city to stand for peace and positive energy, as well as be at the frontline in the war against electoral violence.
"Boda boda operators have had a negative connotation and reputation across the country because of a few bad elements," said Paul Muiruri, Chairperson of Boda Boda Association, Nakuru County, adding "we stand for peace. We are not going to be involved in violence especially during this election period. We take it as our responsibility to ensure that operators work with other stakeholders to ensure a crime-free society."
According to Inspector Patrick Gatambia, the #BuildingVoices Campaign is crucial especially at this time of elections, when politicians engage youth in violence for their vested interests. He urged the riders to maintain peace and hold each other accountable.
"This campaign and partnership between different stakeholders are much needed at this time of elections. It is inspiring to see young people and especially a vibrant association like boda boda take charge of ensuring we have a peaceful co-existence amongst ourselves," said Inspector Patrick.
The street activation was later followed by an engaging conversation that tackled various topical issues including how to effectively and lawfully exercise the right to freedom of speech which is often abused during politicking.
The dialogue was very engaging allowing the youth to raise their concerns and have them addressed by the key actors in criminal justice. It also enlightened and equipped the youth on how to be positively active in the political scene and ensure a peaceful election period.