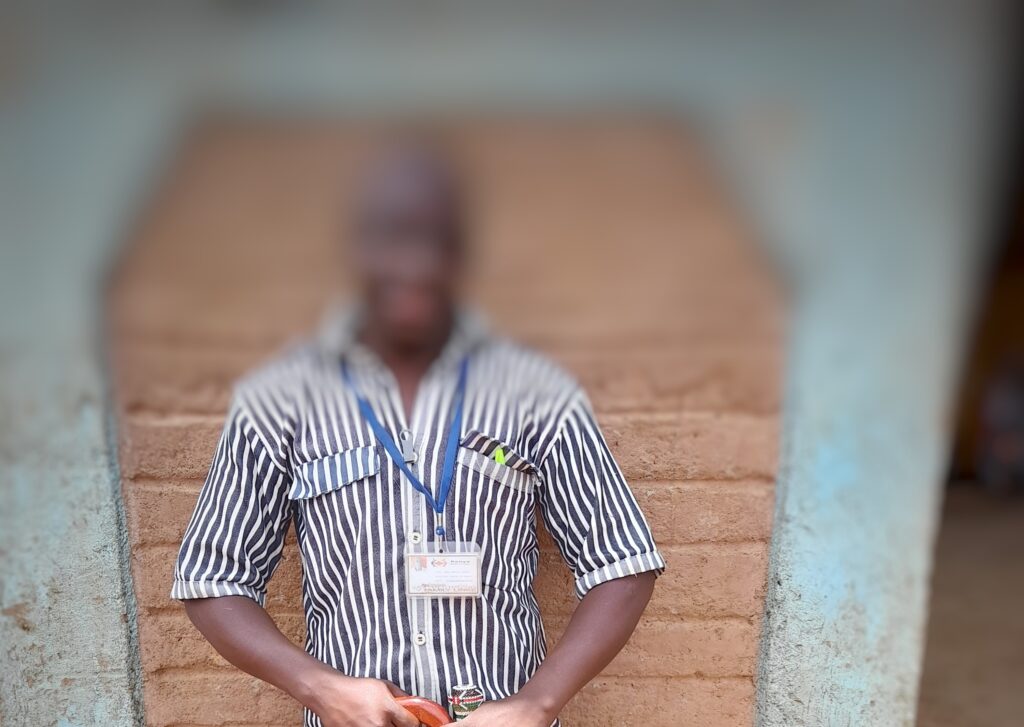 At first glance, one can not tell what Fredrick (not his real name), an inmate at one of the prisons we work in, has been through. His blooming face and happy demeanour do not reflect in any way the physical and psychological trauma he's fought to overcome rape ordeal the prison.
Incarcerated at the young age of 19 years, Fredrick was in no way prepared for what awaited on the other side. His first encounter in prison almost threw him off the edge. As soon as he stepped into the prison, Fredrick became a target for the older inmates because of his young age.
"I contemplated committing suicide multiple times. Something wrong was done to me. They put medicine in my porridge, made me dress like a woman, and raped me. I was later taken to hospital for treatment," painfully revealed Fredrick.
With such few words, he disclosed a harrowing experience that can never be erased from his mind. Fredrick revealed. From the first minutes of sharing his story, it was clear that he was still stigmatized from the experience.
"The incident messed up my mind. I didn't understand why it happened to me. In my sorrow, I decided to lean on a friend and that was the best decision I ever made. It took continuous encouragement from the friend for me to heal from the trauma. I remember he kept repeating these words "It was not your fault, the abuse was not your fault," sorrowful narrated Fredrick.
According to Fredrick, his experience taught him how opening up can lead one to the path of healing and inspired him to counsel other young inmates. Through counselling sessions, he began speaking to encourage and give other victims of sexual harassment hope. He also approaches new young inmates to help prevent the same ordeal from happening to them.
"Despite my counsel, some young inmates, unfortunately, get trapped to sodomy. Some as innocent victims others enter into it of their own volition. Mainly to get better treatment, better food, and other benefits," lamented Abisai.
Fredrick has been conducting peer-to-peer counselling for the past six years and has helped some inmates desist from engaging in sodomy for material gain and many of the young inmates who were victimized to find peace.
"Despite the efforts we put in, not all heed the counsel given. Unfortunately, we have cases of 3 people, who contracted HIV Aids and died which was very unfortunate," he added.
According to Fredrick, reform programs like the one conducted by Crime Si Poa help reach out to more individuals who would never give him an ear.
"There are people through mentorship offered by Crime Si Poa who have desisted from engaging in sodomy. Through this program I hope to expand my knowledge and skills to reach out to more inmates," He concluded.
Vivian Mukumu, a partner psychologist in the CSP prisons outreach project (phoenix), disclosed that victims of sexual assault in prison are usually looked upon as being unmanly because they couldn't defend themselves. This destroys their self-esteem and often drives them into depression causing them to withdraw from others.
"It is difficult for such victims to cope after such a traumatic experience. They often require continuous psychological sessions to develop their self-esteem and learn coping skills to help them fully function again" Vivian explained.
Mentorship sessions conducted in prisons often only reach a fraction of the prison population. To ensure other inmates also benefit from the program peer to peer counselling is key. People like Abisai play an important role in inspiring change in prisons.